"I used to spend all my Saturdays at used vinyl shops and you could actually get great stuff for like $3."
It was 2004 and Hamilton Leithauser was asking if you could hear him while he was pounding your door and calling your name. He was in his late mid-twenties then, having spent the past decades toiling in the indie scenes of D.C., Boston and finally New York, a bare few years after Is This It blew alway London and recorded right before "Mr. Brightside" would strangle it to death. Leithauser's band, The Walkmen, had broken through the ice with a single that forcefully jabbed jabbed the air like the Interpol song you belted at the bar but left you more unsettled than Carlos D's sneery bass throb ever could. Five more albums would follow before the band took an "extreme hiatus" with a shrug, profiled excellently by Ryan Leas at Stereogum: "No drama, no in-fighting. Just a collective agreement: This thing is over. At least for now."
Leithauser has stayed busy. His solo debut, Black Hours, came out in 2014 to the perfunctory praise given to a solo debut from a charismatic frontman. It was a very fine album, polished oldie pop meant to shake off the rock band reputation, made by a man who clearly admired Frank Sinatra. Good job, now get the gang back together. His latest offering however, a collaboration with Vampire Weekend's former songwriter and keyboardist, Rostam Batmanglij, was a big deal. Turning into Leithauser's staccato into reveries frozen in acoustic mist, I Had a Dream That You Were Mine was one of the most gorgeous albums released last year.
Shortly before Leithauser takes the stage at this weekend's Pitchfork Music Festival in Chicago, I had the chance to shoot him a few questions.
---
Were you surprised by the amount of acclaim that I Had a Dream That You Were Mine received last year? Did making it feel like a large departure from your earlier solo work?

Everything I've done in the last couple years has felt like a big departure to me, because I was working with the same gang for so long…it's very different being on my own. So every new personality that comes along ends up having a big influence on what I'm doing. I spend so much of my time working alone. I like working with other people…it's like the reward at the end of the day…hanging out with your friends again.
Before that you did an album with your old bandmate, Paul Maroon called Dear God. I think it was vinyl-only, and you guys hand-delivered some of them?
No more hand deliveries! It was actually pretty fun for a while…showing up at people's offices, apartments, or synagogues at weird hours. Waking hungover people up at about 8 am on a Sunday morning with my 3 year old daughter. But we ended up scheduling so many more of those than we should have, and the NYC traffic started to make it "not so fun". I got a $300 speeding ticket at Grant's Tomb during one delivery, so I did the math like "well I guess that negated that sale…and about 30 other sales".
Speaking of vinyl, has the resurgence of record-collecting felt validating?
It's great that everyone puts out records on vinyl, but now it's so expensive! I used to spend all my Saturdays at used vinyl shops and you could actually get great stuff for like $3. No way would that happen any more…anywhere in the US. [So] in like 1996, vinyl was like a great investment. Who would have thunk?
More nostalgia: everyone seems to be misty-eyed over the whole old East Village thing.
I do feel connected to the East Village more than anywhere else in the city. I've lived all over. Probably just because it was the first place I lived, and where the band really got going. It's changed a whole lot, but whenever I'm there, not very often any more, I do get a little nostalgic tug at the heart strings.
You also used to work at the Met back then as well, I believe. Arranging their art history into a timeline of sorts. What was your favorite period to work with?
Can't say I had a favorite. On thing my office was in charge of was "cold storage", which was all the old films and a lot of photographs and digital media. It was all kept in this refrigerated box right down the hall. One summer at the very beginning, I was put in charge of archiving films–why in the hell was an 18 year old kid archiving all this stuff? The Met isn't exactly run like Microsoft. Anyhow, it was this summer where every day was like 100 degrees in New York, and I was spending all day in a full down coat, scarf, mittens, snow pants, and snow boots in this freezing cave in the basement by myself.
Back then, you were more in touch with the underground scene. Do you feel like its harder for acts to find the kind of recognition you found?
It was hard then. Before the Walkmen, in college, I had this band the Recoys. We lived in Boston then moved to NYC. We played all around the East Village and Williamsburg for a few years with basically zero success. It wasn't until a little into the Walkmen that we got the ball rolling…it took us a little while too. I will say that when I started as a solo act I wasn't fully prepared for how few people would connect my name to the Walkmen name. I think I've finally got my own name now, but it's been like 4 years….that's a lotta work!
How would you rank your Walkmen records?
Yikes…can't do that. Too close to the heart. You & Me is my favorite, but I got a real weak spot for Everyone Who Pretended to Like Me is Gone…was just a great new frontier for us in making it.
Hamilton Leithauser is playing the Pitchfork Music Festival in Chicago on July 16th.
---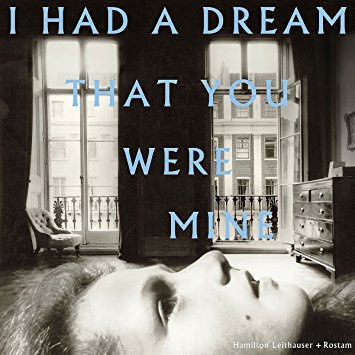 ---
Andrew Karpan really doesn't have better material. He's sorry. You can follow him on Twitter.
Comments
comments