Love sucks, everyone knows this.
Connected to this humdrum fact of life is another one: people, most often the subjects of love, pretty much blow too. A thing that's well understood is that people just ain't no good, and so on. How does one weave the territory together without coming across as just another nihilist of the German variety? The Johnny Rotten of "Submission" touched upon this, he wanted something more than your watery love. Rid of Me-era PJ Harvey battered things out a mile a minute, transmuting romantic bitterness into blistering self-portraits. On a lyrical level, these were mini-masterpieces of manipulating the language of love songs to become the lingua franca of an existential discourse; that feat that escaped so many Kevin Smith scripts. Harvey, et.al was all real. Ditto the punkish pine that is the voice of Audrey Ann Boucher, the singing half of the She-Devils, a duo that hail from the bitter-pop winds of Montreal, longtime home to likeminded domestic discontents Wolf Parade, The Unicorns and, I guess, Arcade Fire.
---
Songs about love and loss are easy but songs about the politics of inclusion are rarer
---
The She-Devils' punk minimalism sets them apart from their hometown scene's longtime romance with choral sounds. On the other hand, most Canadian punk bands are more hardcore scream-and-shout than anything as, well, Raincoats-y as what Boucher and her guitarist, Kyle Jukka, have cooked up on their self-titled debut, out on Secretly Canadian. The charms on display are self-consciously retro: warped surf rock samples take the place of the conventional four-piece band's rhythm section and there's that haunted echo of Surf's Up-meets-Can bracketing the space in the grass that the She-Devils have cut for themselves. But as a statement, She-Devils is statement of pretty contemporary stuff; a pointed rebuke to the sour taste of the romantic comedy and an alluringly anthemic version of contemporary feminism, written in the pang of everyday of life.
Take "Hey Boy," a canny wall-of-sound rocker early in She-Devils. Boucher plays confrontational, a scrappy gender role defier with bangs that supposedly tell all. Ambition is juxtaposed with accomplishment: "I want to see what no one can/I can feel the man I long to touch." Cooing straight out of a Ronettes song hits the floor and we get it: "I want to be part of it too." It's tomboy politics played straight, Boucher is uninterested in playing a character, desiring, instead, to join the all-boys club that she's watching from outside. Songs about love and loss are easy but songs about the politics of inclusion are rarer.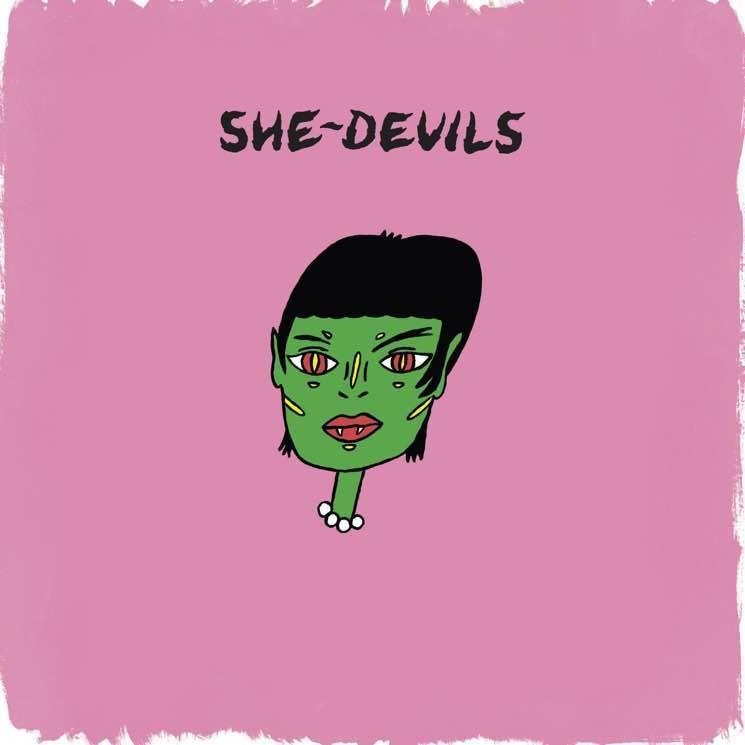 The She-Devils' self-titled release is their first on indie-mainstay, Secretly Canadian
And it's also where things get sticky. On "Blooming," she rejects a suitor's one-night stand business. On "Darling," she implores the opportunity to, instead, "show you something real." Boucher performs this in the register of early Santigold: a pine for authenticity that scans as a bedside condemnation and something else too, a testament aimed at the relationship between the singer and the abstract listener, tuning in for a few seconds on Spotify. For a while, for instance, the band refused to release any of their music online at all, a punkish rejection of the small-scale industry of trying to shove your Soundcloud or Bandcamp in the face of everybody you meet. Their music videos, of which they've released two so far, are not particularly grandiose things, nor are they the deliberately avant-things of too many oil paints on display. Their rejection of music-as-product doesn't hit any particularly high notches on the Radiohead scale, sure, but it's also something more than mere nostalgia-driven naïveté. It's personal.
Boucher accomplishes this by manipulating the double expectations of the feminine, her broadsides are both confrontational and intimate, both "Cherry Bomb" and Merriweather-era Noah Lennox. "Come," repurposed from their debut self-released EP that was mixed by Matthew Otto of Majical Cloudz, lands harder, is less a hot sexual anthem and more a beckoning wave of the hands toward the listener akin to the witch of the gingerbread house. The record's one true-blue love song, "Never Let Me Go," sounds like the yearn of the alien on the album's cover, gloopy synths and Laura Palmer yearning from the abyss.
The Hollywood dichotomy of scrappy versus sensitive, Morena Baccarin in Deadpool versus Kirsten Dunst in Spider-Man, is a box and it's one that Boucher is interested in exploding, the Tarantino doll who realizes everything she's wearing is just makeup. Jukka's samples, buried deeper on their full-length than on the EP now tenderly evoke the ghost of garage bands past and create a frothy oceanic din, something like a punk band covering The Avalanches in three-chord jams. From this prattle, Boucher's snarl rises, falls and forces her untidy love into becoming a beautifully nasty thing. And you know what they say about nasty women?
She-Devils is out now. Get it here.
---
Andrew Karpan has a storied carrier of writing zines and raging against machines. Follow him on Twitter.
More Rawk/Roll:
Remember when Chris Cornell teamed up with Timbaland?
Comments
comments